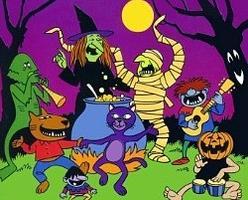 All I needed was the plastic pumpkin bucket with handles for collecting candy, an old black dress with a little stuffing, Mom's hose, some old lady black shoes, and a plastic old witch's mask that was smashed to my head with the thin elastic band. The elastic band always got tangled in my hair and it hurt! The mask smelled funny and freaked me out but was so fun to put on when I got ewwww! reactions from Mom and Delores and Mrs. Schrag. I am pretty sure I wore that same costume several years in a row, even though there was a black-markered HALLOWEEN box of other possibilities to put together.
At the end of neighborhood trick-or-treating, it was the anticipation of dumping the bucket on the floor in the living room to see the loot I had gathered all evening. I recall that any candy was good candy in our house, since the only candy we ever got was coffee candy in the crystal jar or an occasional walk downtown to the drugstore for shoelace licorice or sixlets behind the big glass case. I loved those little white paper candy sacks that made me feel like I had just won the lottery… I digress.
I went to the thrift store this week to peruse the racks of costumes for fun things to take on my trip to the great Northwest. I have two granddaughters that need a big box of dress-up fun. Furry hats, a cape or two, some princessy-looking numbers, a police jacket, leopardish and leathersome, and…a puffy great white shark.
I scored.
So, on this last Friday before I head Northwest for Halloween…
I am grateful for a little Ama fun and anticipation. And racks of unwanted costumes.
I am grateful for Halloween memories.
I am grateful my parents didn't buy into the evil of Halloween but allowed us to enjoy the fun of All Hallow's Eve.
I am grateful for my years at St. George Episcopal School where I learned about All Saints Day, the day after costumes.
I am grateful for masks, as long as they are plastic to hide my face, not internal to hide my reality.
I am grateful for candy in an old faded orange pumpkin bucket.
I am grateful that I do not have to watch scary movies if I do not so desire.
I am grateful that my husband does not find pleasure in scaring me for fun.
But I am grateful that he enjoys handing out candy to children who ring our doorbell, and I am especially grateful for the tears in his eyes when little Cinderella sang "You are My Sunshine" as her "trick," and I am grateful that she and her sisters came back the next year and remembered our home as the one where Sam asks for a trick.
And finally, I am grateful that I do not have to wear hose ever again, neither the real pair nor the old witch-y hose for fun.