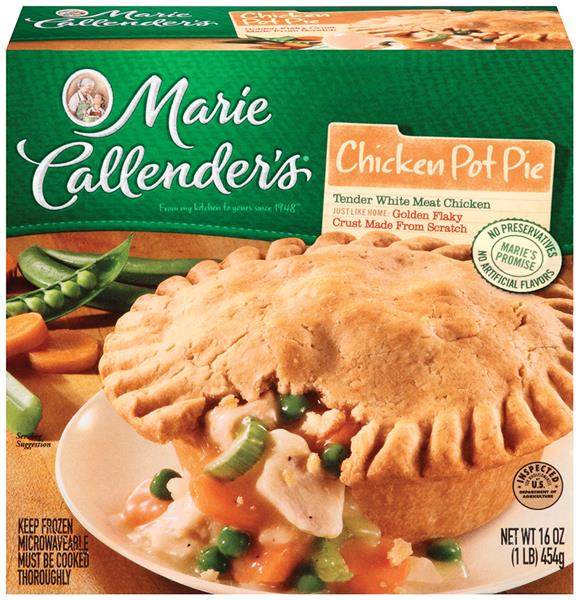 At least during lunch. She makes a pretty good lunch companion in small town USA when a person has no pans and a bacon and cheese sandwich just doesn't sound that whip-tee-do today. I'm fairly certain if we were to go outside for recess, she would swing on the swings with me, too. She wouldn't leave me to go play with her fun friends by the tornado slide. She'd prefer to hang out with me. Or at least that's what I like to imagine.
Marie and me, we long to be, happy together.
I remember when Mom used to MAKE me eat a pot pie from the local IGA store. BLECHHHH! It had VEGETABLES in it. I loved the crust, but ugh, I dreaded having to eat those nasty vegetables inside.
But I grew up. And now I eat all the healthy things. Like Marie Callender's Chicken Pot Pie.
You know how ELSE I grew up?
I went to the grocery store at noon. But in order to do so, I had to drive a very large pickup truck that was parked with PERFECTION, backed up inside the garage with maybe an inch of clearance on either side. Oh, you say it was easy because all I had to do with drive forward and watch the sides?
Well, I will have you know…as I pulled out of the garage, my thought was, "I'm just gonna leave this tank out here in the driveway when I return and let Sam work his magic on the backing in to the garage talent portion of this little jaunt."
One roast and a half gallon of milk later:
I am a proponent of back-up cameras!!
I, Rhonda Donda, Rhonda Joy, Rhonda-cannot-back-up-a-car-straight-to-save-her-life-Rhonda, Rhonda-can't-drive-a-stick-and-never-could-because-she-didn't-grow-up Rhonda, DID IT.
Thanks to that amazing green runway light in the center of the screen and lots of beeping and yellows and reds when I am Danger Will Robinson!-ing, I backed that horse up without making one little scratch, and when I got out of the truck inside the garage, I LAUGHED. I laughed a very proud "Huh Huh!" kind of laugh.
So today, I am grateful for a back-up camera that assisted my park job.
I am grateful I wasn't at the grocery store to get ice cream – it would have melted.
I am grateful for a roast in the crock pot.
And I am grateful for all the healthy vegetables I ate for lunch, thanks to Marie Callender.