Our little Florida eaglet accidentally fell out of his nest yesterday. I just assume he is a boy, but I'm not sure why. He is known as E9, but I think that sounds very science experiment-y, so I call him Everett. Everett allowed temptation to get the best of him, and he thought he could do it alone. But he was wrong.
I remember accidentally falling out of the nest. I also remember feeling very overwhelmed and relying heavily on Psalm 46.
It has been entertaining, to say the least, watching this little bird, almost ready to cut the apron strings but not quite. He must feel all alone, down there on the ground, feeling dirt and grass and pavement for the first time. Smaller birds swoop down and taunt him, teasing him that he's big but can't figure out how to soar. Other species, known as humans, gawk and take pictures and point at the little guy, all alone, trying to figure out how to survive while attempting to get back home.
It's a big world out there. And sometimes, we aren't ready to face it. Sometimes, we THINK we are ready to face it, but really, all we want is to be back home, curled up in our "nest" with Mom and Dad hovering close by, keeping a watchful eye, feeding us when we are hungry, protecting us from the taunting and the teasing and the gawking, seen and unseen.Sheltering us from the storms and hiding us from the dark and scary predators.
Harriet and Everett
Mom and Dad keeping watch
Lunch time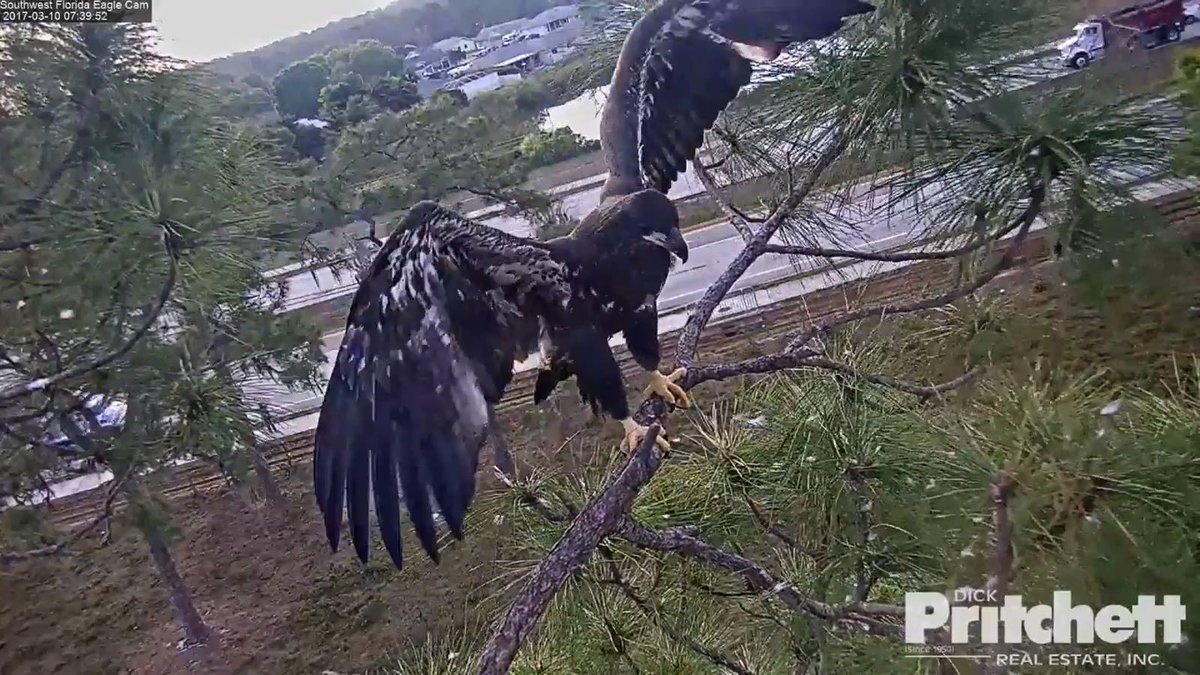 Everett, testing the wings, still safe and secure
After the fall, Mom and Dad delivering a fish
and in protection mode
Everett, figuring out this flying thing, yesterday afternoon
This afternoon…beautiful, and so young,
still trying to figure out how to make those wings go up,
back to the nest.
Everett is sitting on a branch of a dead tree this afternoon, so close to the nest, but waiting. Every once in a while, you can see feeble attempts of take-off, or maybe Everett is just practicing for his homecoming. Harriet and M-15, (or Bond, as I like to call Dad) are near. One is in the nest tree, watching with an eagle-eye, and we all assume the other is out getting dinner from the local eatery so that dinner will be "on the table" when Everett comes home.
Tonight, I am grateful for the technology that now allows us to experience this little eagle family in Florida and have an eagle-eye view into the intimacy of parents so caring and concerned for their little one who has decided to test the waters.
I am grateful for God's creation, complete with eagles.
I am grateful that Everett wasn't injured in the fall.
I am grateful for a computer to watch this wonder of nature in real time.
I am grateful for the reminder in watching, of how my parents loved me and cared for me and didn't abandon me when I fell from the nest.
I am grateful for the heart-wrenching emotions that come with getting attached to this Florida family.
And I am grateful, I think, that my boss gave me a new eagle family to now watch, and this time, I'll be able to see from the beginning, as there are two eggs in the nest, to be hatched in a week or two.
Florida Eagle Family – Everett/E9, Harriet, and M-15/Bond
Washington DC Eagle Family – Mr. President and First Lady and eaglets-to-be
Yet those who wait for the LORD Will gain new strength; They will mount up with wings like eagles, They will run and not get tired, They will walk and not become weary. – Isaiah 40:31